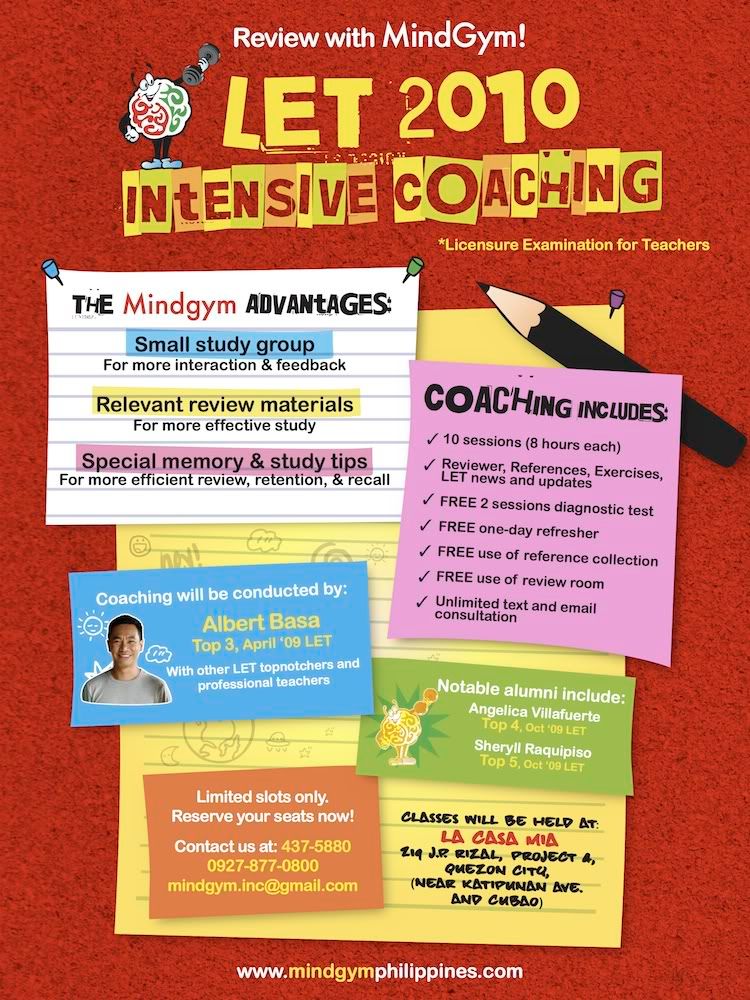 Conducted by April 2009 Top 3, Albert Basa, and other LET placers who are not only academically proficient but who really care to help reviewers pass the LET; LET refresher includes several drills in GenEd and ProfEd competencies to be tested and coaching on Majorship.
At the end of 10 days, trainees will bring home LET memory tools for easy recall of knowledge; proven test taking tips and techniques for passing the LET; and the confidence to pass even even top the LET.
We are accepting only 25 reviewees per batch to ensure that each reviewee can freely ask questions on subjects of concern and closely interact with peers and coaches.
Our ten-day session will be conducted at MindGym, La Casa MIA Building, 219 J. P. Rizal, Project 4, Quezon City(accessible by jeepney from Cubao). Classes are scheduled every Saturday and Sunday starting 23 January 2009 (Batch 1), 9 AM – 6PM.
Cost of workshop: P 5,500 only with materials PLUS 2 days mock LET drills and 1-day FREE coaching prior to April 2010 LET. Contact us for inquiries and reservations!